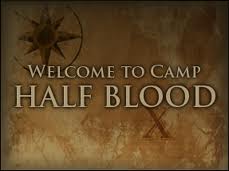 What is the Camp Half-Blood RPG?
The Camp Half-Blood RPG on Wizard101 Central is the 2nd largest RPG, even though it has limited numbers of players. Created by the user boyhoy (the owner of this wiki is Techno Steam), it has accumulated about 40,000 posts and more than 15 active members (about).
The Camp Half-Blood RPG is loosely based off of Rick Riordan's best-selling series Percy Jackson and the Olympians: however, it is based in a "parallel universe" and therefore does not have the main characters in the original series. Players make a form, deciding who they would be from a large number of godly parents (or become a satyr, naiad, etc.), their weapon, and other characteristics - from there, they decide whether to start out at camp (either as an original member or just arriving) or be chased by monsters.
Also, players do have the option of "killing off" a character if they have no need for them. Characters participate in prophecies, interact with others, as well as a number of other things (Hecate children tend to have a habit of sneaking out of camp, breaking a strict rule, though they don't get caught (though other campers seem to, suspiciously)). This wiki is solely based for looking up info - the RPG has gotten so large, players have forgotten specificities about their characters. Feel free to look up anything - and if you're a player, be sure to add your own!
Enjoy!
Latest Activity
Community content is available under
CC-BY-SA
unless otherwise noted.